Kind Words
The planning, organising and cooking for an event is a collaboration between ourselves and the client, the final product being complete satisfaction. Here are some of the kind words that have been received after various events....
- The Queen's Dragoon Guards 50th anniversary attended by HRH The Prince of Wales (Colonel-in-Chief)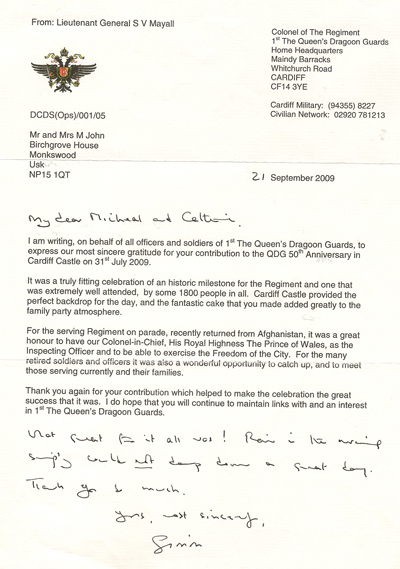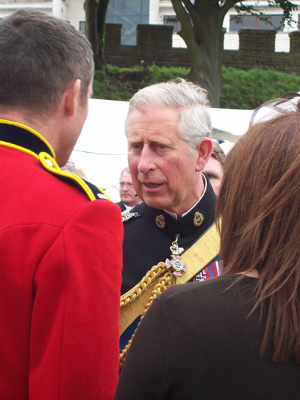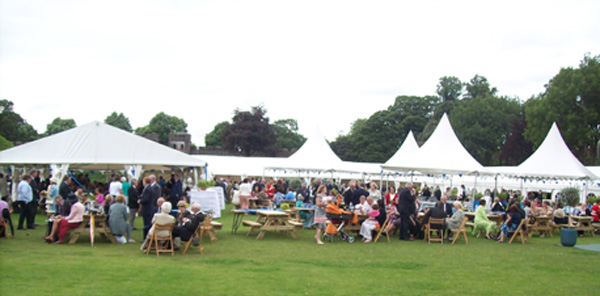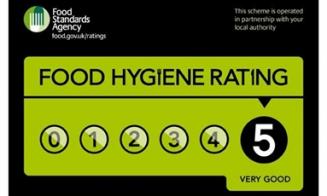 - Thank you for a superb hog roast. Anna Hodgetts, Swansea.
- Delicious food for the harvest supper, thank you very much for your contribution, everybody enjoyed the evening. Shula Gunter, Gwent YFC County Treasurer.
- The food was excellent, Gwent YFC Harvest Supper, Chepstow. Monmouthshire NFU Ladies.
- Thank you so very much for the service you provided. Everything was perfect the food was amazing. We have had so many comments to pass onto you of congratulations. Mrs B M.
- Amazing hog roast. Bride, Pencoed House, Cardiff.
- The best hog roast we have ever had. Mrs Richards, Barry RFC.
- Thank you Mike, the pork was delicious. Rev J Lloyd, Sessions House, Usk.
- Many thanks Mike, excellent as usual. J Calvert.
- Thank you Mike for the food and service you provided, it was all very good. Rob Hunt, KWS (UK) Ltd.
- Excellent hogroast and service, thank you. Darren Talbot, Director of Finance St John Wales
- Thank you very much for the Hogroast, it was very, very, good. David Morgan Trostrey Court
- A1 pork as usual. R M St Peters Church, Goytre
- Thank you Mike excellent Hogroast, we had a very successful day, D Massey St Maughns Church.
- Thank you for a superb Hogroast, Dr Sullivan.
- Hi Mike, Thank you for providing a brilliant Hogroast yesterday, Everybody commented on how amazing the food tasted, Angharad.
- The hogroast was delicious, we have had lots of comments from our guests about how good it was. Joanna Aitken
- Sanna Drummond, Homme Farm, Ross on Wye (Harewood End Agricultural Society Event) - 'The best Hog Roast I have tasted!'
- I think we can say the Christening was a massive success and your contribution played a very large part in making it so - well done!
- We were certainly impressed by the quality of your food and the level of service you offered.
Best wishes
John & Anne
- S.W. Usk
Catherine and Mike The food and service you provided for my party was absolutely first class, many of my guests commented on how nice it was thank you.
- D M. OBE Abergavenny
Thank you for a super, super day.
- P A Abergavenny
The afternoon tea was the nicest I have ever tasted
- L.T. Usk
Just to say a big "Thank you" for the dinner party last Saturday. Everybody really enjoyed themselves - the food was great and the way it was presented and served excellent. I'll certainly come to you for my next "do"
- G and P Owen Monkswood
Many, many thanks for providing the food and staff for the 60th birthday party; it was excellent, well done.
- J M Usk
You did a fantastic job at C and M's wedding, the food and service was first class, everyone has commented it was excellent, thank you.
- J B Usk
On behalf of all our family thank you for the food and service at K and M's wedding, it was a wonderful day and you played such a huge part in making it so memorable.
- S and A Monkswood
The dinner at Sessions House for G's birthday was excellent; we had such a lovely afternoon with all our friends and family, well done
- G W Llandenny
Thank you for the canapé lunch, they were perfect for the occasion and tasted wonderful
- M R Usk Castle
Excellent food and service, well done Happy New Year everyone